NEW RANGE WITH SCREW COMPRESSOR & HFO-R1234ZE REFRIGERANT
We are glad to extend our product offer with low GWP refrigerants. The launch of these units is the completion of our low environmental impacting solutions.

NEW UNITS WITH HFO-R1234ZE REFRIGERANT
We present a new range with Screw compressor and HFO-R1234ze refrigerant with cooling capacity from 80 to 200 kW, both Air cooled and Water cooled.
These units belong to MaxiPower family: Air cooled, Water cooled and condenserless liquid Chillers with Screw compressors cover capacities up to 2470 kW. Dedicated models feature Inverter technology for an higher efficiency even at part load. The new environmentally friendly models feature the innovative HFO-R1234ze refrigerant, in order to meet the strictest international environmental regulations.

WHAT IS HFO-R1234ZE REFRIGERANT?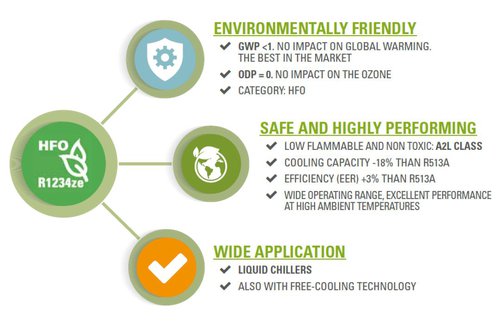 The latest generation refrigerant HFO-R1234ze, with GWP<1 (Global Warming Potential), is the most environmentally sustainable refrigerant in the market to meet even the strictest international environmental regulations.

A CLASS ENERGY EFFICIENCY
The highest today's challenge in HVAC business is ensuring maximum comfort with the lowest energy consumption. Thanks to the continuous research in new technical solutions, our goal is to offer our newest and widest high efficiency range characterized by A CLASS energy efficiency.
For further information and quotation request please contact us at info@gind.it