"THERMICA", THE NEW HEAT PUMPS RANGE
THERMICA is the new product range of dedicated Heat Pumps from 6 to 10 kW with hot water production up to 55°C.
These units, outcome of the partnership with Fujitsu General, are fitted with DC Inverter compressor series, EC fans and integrated hydronic kit with high efficiency EC circulator.
THERMICA, thanks to the integrated DC Inverter technology, is characterized by a wide operating range which guarantees its heating operation up to -20°C of external air and high efficiency at part load. The range can reach A+++ energy class at 35°C and A++ at 55°C.

ERP DIRECTIVES
The EUROPEAN UNION Regulations designed to precisely determine the Minimum Energy Efficiency Standards for Electric related Products ErP.
Mandatory compliance for the following standards:
Main components: fans, pumps, motors.
Complete units: Heat Pumps.

DIFFERENT REGULATIONS AND STANDARDS
Heat pump units. Regulation n. 813/2013.
Units are compliant with ErP Regulation by exceeding the minimum standards of seasonal energy efficiency in heating, SCOP.

COMPACT DESIGN, OPTIMIZED LAYOUT
Compact design, reduced footprint.
Full accessibility of all components from frontal panel.
Frontal electrical board and control panel.
All hydraulic components for the unit installation are already included with no increase in dimensions.
Operation with reduced system water content.
Rear water connections.

A CLASS ENERGY EFFICIENCY
FREE ENERGY FROM OUTDOOR
Thermica recovers most of the energy needed from external ambient. Based on heat pump logic, it exploits the thermal exchange between external ambient and water in the system to provide to the water itself energy to heat or cool internal ambients or to heat domestic hot water.
Thermica design and technology make it being extremely efficient: the whole range features A class energy efficiency in heating, with a COP up to 4.35.

EC INVERTER FANS
Fans are electronically controlled by EC MOTORS = Electronically Commutated Motors that modulate the airflow regulating the fans speed proportionally to the required cooling load and according to external air temperature.

STANDARD EC INVERTER CIRCULATOR
High Efficiency EC INVERTER CIRCULATOR integrated in the unit:
Manages the water flow and water available static pressure in the circuit through the 3 speed selectable by the user.
Allows an easier unit installation: no need to install pumps externally.

IDEAL SOLUTION FOR YOUR PEACE OF MIND
SILENT OPERATION
In the development of Thermica, maximum attention has been paid to silence, with the aim of helping to make the home environment comfortable. This is possible thanks to the reduction of the compressor frequency and the fan speed.
EASY INSTALLATION
Thermica was created to make life easier for those who choose it. During installation, unlike units operating with direct expansion, which require the vacuum and the refrigerant charge, the installation procedures of the monobloc machines of this line are extremely facilitated by the fact that the connection pipes are hydraulic. Moreover they already incorporate all the necessary components, while maintaining compact dimensions, making this phase easy and fast.
Items included:
EC INVERTER circulator
Flow switch
Expansion vessel
Safety valve
Air vent

INVERTER ROTARY COMPRESSOR
The Rotary compressor is fully managed by an INVERTER VARIABLE FREQUENCY DRIVE that electronically modulates the compressor SPEED according to the required cooling load.
TOP SEER/SCOP: EFFICIENCY AT PART LOAD
Delivered & absorbed power is PROPORTIONALLY modulated.
STEPLESS regulation.
Power input is reduced when operating at part load.
NO CURRENT PEAK AT START-UP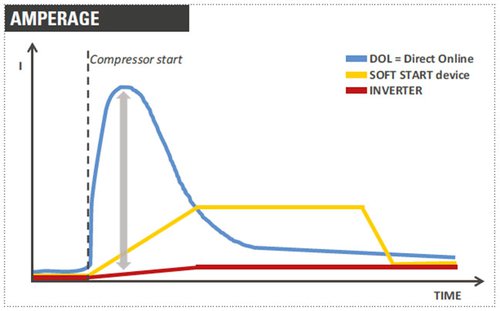 Avoid torque surges.
Down-size the building's electrical system: save fixed costs charged by utilities.
Reduce mains and power backup loads.

CONSTANT LEVEL OF WATER TEMPERATURE: MORE COMFORT
Water temperature remains stable.
No temperature fluctuations.
More comfort to the final user.

DOMESTIC HOT WATER UP TO 55°C
The controller manages hot water production thanks to a 3-way valve to be installed outside the unit.
INTEGRATION BETWEEN DIFFERENT SOURCES
Thermica can switch from one energy source to another, always preferring renewable ones, based on their availability, yields and related costs. In case of particularly low external temperatures, in order to integrate its thermal capacity, the unit is designed for the activation of auxiliary sources.

CONTROLS
ON BOARD CONTROLLER WITH LED DISPLAY
Controller with included Display mounted on the door of unit's electric box. Connectable to BMS through Modbus RTU protocol over RS485 serial interface.
3 levels of access: user - service - manufacturer
4 push buttons and digit - icons visualization
Available functions:
Unit status graphical visualization: heating / cooling / DHW / stand-by / alarm / defrost / economy
Main Input / Output visualization (°C and %)
Active alarms (code)
History of the last 20 alarms (code, starting date and time)
Alarms manual reset
Set-point change, climatic curves
Unit mode change: heating / cooling
Hybrid plant management
ON-OFF unit's key

REMOTE CONTROL PANEL (OPTION)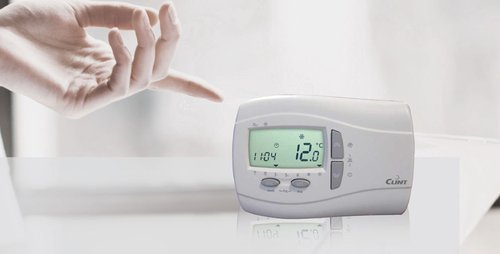 Remote electronic control with LCD display and integrated room temperature sensor.
Available functions:
Unit status graphical visualization: heating / cooling / DHW / stand-by / alarm
Clock (date and time) visualization
Temperature and room set-point visualization
Room temperature set-point modification
Active alarms (code)
Time slots scheduling